It is pretty clear New Zealand is ahead of the times – women playing sport is broadcast on TV, gay marriage is legalised, and their $2 coins are larger than their $1 coins. So it is pretty obvious when it comes to online gambling that New Zealanders expect to access the latest innovative online blackjack games.
Best New Zealand Web Casinos For 21
New Zealanders want the best of the best and therefore the online casinos we recommend are the greatest option. Trustworthy and reliable software providers, such as Microgaming and Net Entertainment, are found across our favourite Web casinos and offer a range of creative, innovative, and exciting blackjack options.
For the NZ players who want an authentic blackjack experience but don't want to travel as far and wide as Frodo Baggins for a land-based casino, there is the option of live dealer blackjack where a human dealer can be seen live on your screen via a HD video feed. This option is available at all of our recommended sites, including a Playboy Bunny Live Dealer option exclusive to Microgaming casinos like Royal Vegas, Casino-Mate and 7Sultans.
Royal Vegas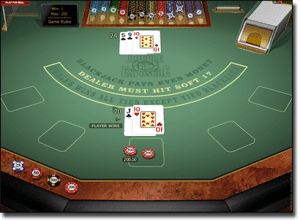 We have picked Royal Vegas as the top online casino for New Zealanders as it offers a huge catalogue of blackjack versions featuring more than 35 different games. Ranging from the traditional blackjack, with 52 cards, to games which offer up to eight decks.
For individual games against the dealer, Royal Vegas offers European Blackjack, Vegas Strip Blackjack and more; while if you are after games that allow you to play multiple hands at the same time try out Multi-hand Spanish 21, or the other multi-hand blackjack games they offer. Royal Vegas also offers Live Dealer Blackjack with elegant croupiers, as well as a mobile app titled Regal Vegas which can be downloaded to your smartphone or tablet.
7Sultans
Like Royal Vegas, 7 Sultans offers an array of blackjack variants powered by Microgaming. Featuring 30+ games, as well as additional live dealer blackjack games which offers variants too, such as the live dealers dressed as Playboy bunnies, you are bound to have a great online 21 experience here. You'll find most of the above titles at 7 Sultans as well as some additional blackjack games such as Super Fun 21 and Hi Low 13 blackjack. Additionally, 7 Sultans offers a blackjack guide for players who are new or want to learn about basic strategy.
G'Day Casino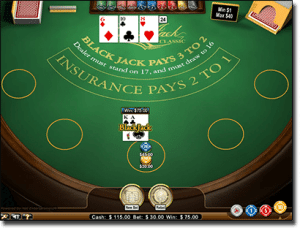 Although this online casino is targeted at Aussies, NZ players should check out the array of blackjack options as they aren't just powered by Microgaming, though that is the top leading software provider, but also White Hat Gaming which means you get to see how they stack up against one another.
The variations include your standard blackjack as well as Pontoon, where up to eight decks are played; and Blackjack Sixth Sense where five decks are used. Additionally, if you sign up and make a deposit with G'Day you get a free slab of VB beer, which isn't just available to Australians, but NZ players too.
Online Blackjack In New Zealand
Online gambling within New Zealand is 100% legal for real money NZ players. Just like Australia, gambling at online casino venues located and run within the country is illegal, but it is up to New Zealanders to wager at international Internet casinos.
Always play at trustworthy Web casinos run overseas on computer, mobile phones or tablets; otherwise, you can be fined up to $10,000 for betting at sites hosted within the country, though these are practically non-existent.
If you haven't caught on by now that online casinos offer higher payouts than their land-based counterparts, then it's best you read this whole article to find out exactly where is best to play. When playing real money online blackjack, the overhead costs are much cheaper for the Internet casino to run in comparison to their traditional land venues, so payouts and odds are always much higher.
How To Start Playing Online Blackjack
One you have picked your favourite online casino and you are ready to play for real NZD money, you will have to sign up, which can be done online and only takes a few minutes. Fill in the form provided including your contact information. If you are worried about the protection of your information, always read the online casino's privacy policy. However, all of our recommended online casinos keep your information safe and do not share it with third parties. Once you have done that, make sure you choose New Zealand dollars as your currency.
To fund your account you will need to choose a payment method which is accepted by the online casino. Our favourite internet casinos offer a number of accepted payment methods which can be found on the banking page, which includes credit cards, a range of e-wallets, and bank transfers which all NZ players can use. All transactions at these casinos are secure due to the 128-bit data encryption technology which major financial institutions use around the globe. Once you have chosen which payment method, enter how much you wish to deposit, confirm any details and away you go.
Some Internet casinos have amazing sign up bonuses which you will be able to claim once you have made your first deposit. An extremely generous sign up bonus is at Royal Vegas, with a sweet $1200 to claim over three deposits. After you have deposited and claimed your sign up bonus, head on over to the games page, pick blackjack as your preferred game and choose out of the array of options.
Additionally, online players are able to enjoy an array of different blackjack games with various options which can be altered to suit personal preferences, such as audio and level of ease. New Zealand players can play in practice mode to perfect a strategy or simply just learn the game, as well as with real NZD cash, which provides and extremely thrilling experience.
Overall, the best thing about playing online 21 for New Zealanders is that it can all be accessed from the comfort of your own home.
How to Play Online 21
If you are new to online blackjack the game is quite simple. Basically, a player needs to create a hand with a total of 21. It has to beat the dealers hand in coming closer to 21, or actually getting 21, and you can't go over or you will bust. To build a hand, the players are given two cards which you can then hit, split, stand, or take other actions as explained below, depending on the value.
The value of cards from two to ten are their face value, while picture cards have a value of 10, and the ace is valued as one or 11 depending on your needs. These rules can vary and since online casinos do offer an abundance of variations – you make need to have a look at what the specific rules are for the game you are playing.
For a standard game of 21 however, players will be given two cards, with two on display for the player and one on display for the dealer with their other one face down. Players can add up their total, compare it with the dealers, predict what the dealer's hidden card may be and then take the following actions:
Hit:
By hitting you earn another card which you can continue to do until you choose to stand or bust, depending on what you are dealt.
Stand:
You either don't think you can beat the dealer if you are dealt another card, or you are confident in your hand so you choose to stand, meaning you don't need any more cards dealt to you.
Split:
Another option if you have two cards of the same value. You split them so you have two hands with two wagers. Some variations offer the option of splitting more than once.
Surrender:
If you have a terrible hand or you think you might bust, you can choose this option which means you can quit but for only half of your bet so you don't lose your entire wager.
Insurance:
If the dealer's revealed card is an ace the insurance bet allows you to make a side wager against the dealer having blackjack. This bet wins 2:1 if the dealer has blackjack.
Doubling Down:
You can double down, but only on your first two cards, which means you double your bet and receive just one more card. Your turn is then ended.
The dealer will play their hand once you have ended your turn and generally will have to hit on a total of 16 in their hand and stand on a total of 17, this varies however. If you beat the dealer's hand, by value total or blackjack, you will be paid your winnings.
Live Dealer Blackjack For NZ Players
For those New Zealanders who are dubious about playing online due to the lack of an authentic casino experience then why not try out live dealer blackjack? Live dealer still uses the same Random Number Generator (RNG) blackjack as Internet blackjack however it creates a unique casino atmosphere through the use of a human croupier. If you have played online before then you will understand the layout as it is similar, however you also have a human, attractive at that, dealing cards on a table. Basically you can virtually place your bets, while watching human dealers operate. Most online casinos also have the added bonus of the chat feature which allows us to talk to the croupier and other players.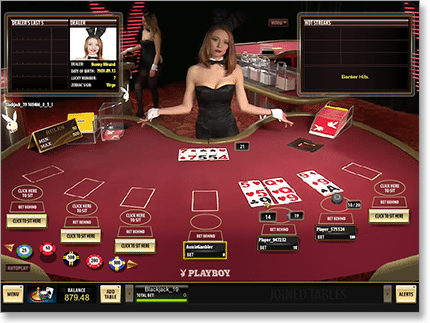 Some online casinos set their live dealers up in a studio, while others use brick and mortar space, but regardless the atmosphere is still created wherever you are playing. You can choose between a number of different style of croupiers including Playboy bunnies or elegant traditional dealers.
Live dealer is played with the same rules as standard online blackjack, however there is the addition of the bet behind option, which is available at land-based blackjack. The bet behind rule means you can keep an eye on another player to watch their strategy, as well as keep track on player's winning streaks. If you do choose to bet behind and win, the payouts are still the same as though it was your hand at most online casinos.
NZ Online Blackjack Odds
The house edge is determined by strategy, so if you don't have one play in practice mode until you develop a sound approach to online 21. Depending on your strategy, NZ players can get the house edge down to as low as 0.5%. Although the dealer plays last, the house edge is also affected by the player due to 21 being a game of skill, so understanding the odds helps. For example, if you have a hand total of 14 there is a 56% chance of you busting, while if you get a total of 19 there is an 85% chance of you going bust.
The odds are better to stand at 15 and 16 however due to the dealer's revealed card also influencing if you hit or stand, you may have to hit on these numbers. But there is no chance the dealer can have a revealed card which will make you hit on 17 so stand on this one, as there is a 69% chance you will bust. These odds may help you win, but there is also luck involved when using a decent strategy so always keep that in mind to get the best experience.
Play Real Money Online Blackjack games with New Zealand currency (NZD) safely and legally at www.RoyalVegasCasino.com, and redeem up to $1200 in Welcome Package bonuses.