Bank transfers are a good option for new players making the transition from land-based venues to online casino. They're incredibly safe and easy and allow you to get use to making online deposits before using other methods.
They aren't just for the new online player, though, with many experienced online users opting for the method due to its reputation, security, and ease of use.
About regulated bank transfers
Bank transfers can also be called wire transfers, and involve literally transferring funds from one account to another via nominated financial institutions. It has been around for an incredibly long time, well before the Internet, and actually involved users transferring funds with telegraphs to begin with.
In actual fact, back in the 19th century a telegraph company called the Western Union (now a financial company) transferred the first electronic wire transfer (via telegraph). People then began going to the Western Union, to request money to be sent across the country and a telegraph would be sent to the relative Western Union branch in order to deliver the money.
This turned into filling out a form at your local financial institution and having the money sent via your branch, which you can still do, and then to online transfers that we are talking about today.
What is a wire transfer?
For a wire transfer to work, the payer needs funds and an account to transfer the funds to and from, while the payee needs an account to receive the funds. Additionally, the payer needs to know the payees account name and number, and the BSB number.
The financial institution you are making the transfer with makes the payment after verifying all the data provided including the bank of the payee. Once it is all confirmed, the money will be transferred. This is why it can be considered to be one of the slowest payment methods out of the available payment options for online casino deposits.
How long do bank transfers take?
The processing time can be considered the only drawback to the method. As mentioned above, the financial institution you are sending the money from needs to verify and confirm the details and it needs to contact and verify the details with another financial institution (if they aren't the same) before completing the transfer. This means it is going to be a bit of lengthy process.
A bank transfer can take typically between three to five business days to process. However, this can be quicker or slower depending on the financial institutions, whether the payer has entered the correct information and if they have the available funds.
If a mistake has been made, it can take up to 30 days to be identified, fixed and for the transaction to be completed.
Is there a way to speed the process up?
Yes, there is a way to speed the time it takes for a bank transfer to go through, which is convenient because when you want to make a deposit at an online casino, you don't want to wait days before you can start playing.
This is called an Instant Bank Transfer and it generally involves users paying extra to speed up the process. By opting for this method, players can see their funds in their account within minutes in some instances.
How to make a bank transfer at an online casino
To make a deposit using a bank transfer, we have detailed an easy step-by-step guide to make the process easier.
In order to make a bank transfer online, you do need Internet banking. Otherwise you can go into your local branch and fill out the form with the details provided by the online casino.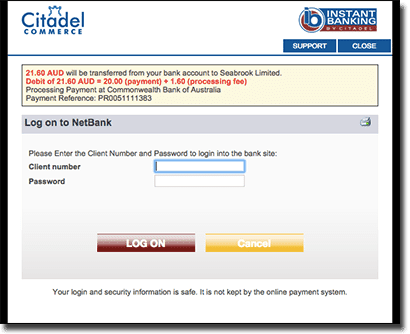 Step 1: Go to the deposit page and locate the 'Bank transfer' option
Step 2: Enter the amount you wish to deposit and press confirm
Step 3: You will either be taken to a list of banks eligible in your country for bank transfers or you will be given the online casino's bank account details to make the transfer manually
Step 4: For the eligible banks option, click on your bank and you will be redirected to your Internet banking page where you will be required to enter your details. The casino account details will be filled out for you and all you have to do is confirm the transaction
Step 5: To perform the transfer manually, take the online casino's account details and fill out the transfer form via your Internet banking, or take it into your local branch and fill the form out there
Generally, you will see your funds appear within three to five days if everything went smoothly
Eligible banks for bank transfers
We have selected a few banks which are eligible to make bank transfers around the world. If yours isn't listed here it doesn't mean you can't make the transfer you may just have to do it manually.
US
Bank of America
Western Union
United Kingdom
Bank of Scotland
Barclays Bank
Australia and New Zealand
ANZ
Commonwealth Bank of Australia
Are there any fees involved with wire transfers?
There may be fees incurred when opting for this method, but this isn't by the online casinos rather your financial institution. Additionally, if you opt for an Instant Bank Transfer this will incur an additional charge to speed the process up. The major advantage to bank transfers is that they are encrypted by your financial institution meaning they are an incredibly safe and secure method.