Only reputable online casinos are licensed, as are their games, but to be considered one of the best Internet gaming establishments, you need to be licensed by one of the best.
Malta Gaming Authority (MGA) is the Microgaming of jurisdictional licensers, and while it may not be as interesting as learning about the games, it is incredibly important to take note of jurisdictional licensers as they can be clear indicators of whether or not a casino is rogue.
If you locate a MGA logo on the bottom of the homepage, this is a good indication the Web casino you've chosen is of high quality – we detail why below.
About the MGA
The Malta Gaming Authority is the only regulatory body that oversees gaming activities in Malta, and is internationally recognised for its advanced gaming criteria. They put each online casino that applies for a license through an intense and vigorous investigation to uphold their image of being one the best licensers available.
Originally, the MGA operated under the Public Lotto Ordinance in Malta; however, it was overhauled and they now operate under the Lotteries and Other Games Act of 2001.
MGA's mission statement, as per the legislation, is:
"To regulate competently the various sectors of the gaming industry that fall under the Authority by ensuring gaming is fair and transparent to the players, preventing crime, corruption and money laundering and by protecting minor and vulnerable players."
Additionally, being licensed by the MGA means that the online casino is whitelisted, which means it makes the list of online gambling establishments considered to be above average by the UK Gambling Commission. This means any casino licensed by the MGA can advertise to players in the UK.
What does the MGA do?
While there are a lot of aspects to MGA and their operations, overall the authoritative body;
Conducts investigations into gaming activities
Grants licenses to gaming establishments that adhere to their strict criteria
Monitors gaming activities and the gaming establishments operating under their license
Maintains their public profile by supporting causes and contributing to Malta's development
And much more
MGA's aims and objectives
As one of the top leading regulatory bodies in the iGaming industry, Malta have a list of aims and objectives that they adhere to when investigating an online casino. These include:
Going above and beyond when carrying out the tasks required by regulatory gaming authorities
Pushing and supporting industry advancements, including technology developments
Providing accurate and easily accessible information to players and operators
Ensuring responsible gaming including protecting underage players and those more susceptible to irresponsible gambling
Looking after players in terms of payouts, having their details protected, and more
Ensuring that operators are marketing responsibly
Preventing rogue operators from scamming players
And much more
MGA licenses
Since the MGA operate under the Lotteries and Other Games Act of 2001, they are required to offer four licenses for online operators to apply for. These include Class 1, Class 2, Class 3, and Class 4 licenses.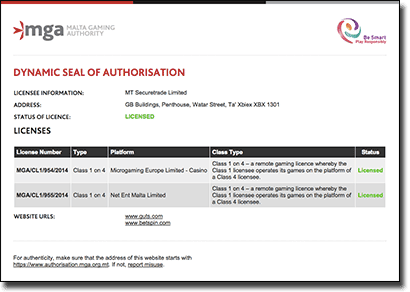 Class 1: A class one license is a remote gaming license that includes casino games, skill-based games and online lottery games. This is what online operators of online casinos, online bingo sites, and more, apply for.
Class 2: A remote gaming license that includes fixed odds betting, spread betting, and pool betting. This is the license that operators of sportsbooks apply for.
Class 3: A license that promotes remote gaming including betting exchanges and peer to peer gaming. Operators of poker sites apply for this license.
Class 4: A license that hosts and manages operators that are using their facilities. Software developers apply for this license.
Online operators can apply for multiple licenses, and you may notice some have a Class 1 license and a Class 4 license as they are using software that is licensed on their platform, as with Class 2 and Class 3 licenses.
How does an online operator gain a license?
The process of getting a license from MGA, whether it be a Class 1, 2, 3, or 4 license, is a vigorous one. Operators are required to produce financial records, proof of data encryption technology, documents detailing a solid track record in customer service, a detailed policy regarding responsible gambling, and more.
Operators also have to pay a fee upon application, which is €2,330, and then a yearly licence fee of €8,500 if approved. The approval process is quite complex, but we have detailed it as simply as we can in five stages.
1. Fit and Proper Exercise: Every piece of documentation associated with the financial and management aspects of the applicants, as well as the appropriate legislation both nationally and internationally, is assessed.
2. Business Planning Review: A thorough investigation into the applicants financial records is undertaken. The applicant is required to submit a detailed forecast of their overall operations, targets, strategies, etc., to be reviewed.
3. Compliance with Operational and Statutory Requirements: Gaming operations are evaluated, as well as the terms and conditions the operator has imposed, and their control systems.
4. System Audit: If the applicant makes it past the first three stages then they are required to implement a gaming system on a technical environment within 60 days.
5. Compliance Audit: The applicant will then go live and undergo a series of compliance audits by a third party.
From here they will be able to advertise the MGA logo at the bottom of their homepage, as well as the accreditation to prove they are licensed by the top leading licenser.
Is it possible for an online operator to falsify the MGA logo?
Unfortunately, some online casinos do falsify documentation, such as by displaying the MGA logo when they actually haven't applied or received the license.
While the majority don't, some do, so it is still important to carry out your research when playing online with real money. Google the name of the online gaming establishment you are playing at with the search terms 'rogue' or 'blacklisted' to see if it returns any negative reviews. If so, avoid playing here.
If you don't have time to carry out the research, we have a handful of online casinos, which are licensed by MGA and have proven to offer a trustworthy and reliable gaming environment, listed below.
MGA licensed online casinos
The following online casinos offer substantial gaming catalogues, around the clock customer service, and trustworthy gaming policies. They each are licensed by MGA with all the credentials verified.
Slots Million
Royal Vegas
Thrills
Jackpot City
32 Red
Leo Vegas
Roxy Palace
Guts
7 Sultans
Casino-Mate