Secure online casinos are businesses that operate in order to make a profit, all the while offering a fun and entertaining service. What they don't do is trap their players and rip them off.
Unfortunately, there are rogue online casinos that do scam their players. We detail some of the worst online casino scams and the online casinos that are responsible so you can keep an eye out for rogue characteristics.
Non-payment of jackpot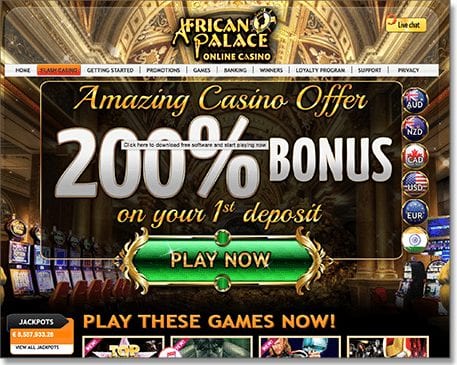 The African Palace Casino seems like a normal casino and features a substantial casino catalogue, easy to navigate layout, and multiple currencies for players from all around the world. However, after scrolling to the bottom of the homepage and noticing no license or accreditation from a third party organisation we were suspicious.
Upon further investigation (a simple Google search), we found that in one year of the online casino opening (established in 2003) it had received countless complaints regarding non-payments of legitimate winnings (we say legitimate as some players can abuse bonuses) and players began reporting that support was unresponsive and unwilling to solve any disputes.
It wasn't until a few years of operation that arguably the biggest online scam occurred and even made the South African national news. A 66 year old woman won an $8.5 million jackpot, but African Palace Casino would not pay her winnings.
They responded stating they were an overseas casino so she could try and sue but she wouldn't win, and unfortunately it was true and she didn't see a cent.
This is one of the biggest issues for playing at offshore online casinos and is why it is especially important to play at regulated casinos that have third party protection, which can shut down casinos and indeed fine them if they behave in this manner.
Rigged casino software
It's not just the online operators which can be rogue, with online software developers acting irresponsible too by creating rigged games.
BRL technologies is a software developer responsible for racebooks, sportsbooks, and casino-style games. They were utilised by many online gambling establishments, but it wasn't until 2011 that it became clear that their games were rigged.
A player documented his wins and losses, and reported this on a forum with the allegations he was being cheated. The Wizard of Odds tested the software after this claim and found they also recorded negative results.
By using a chi-squared statistic, BLR Technologies were discovered to have no results that were random.
This is a big issue for players going from a land-based casino to online as many don't trust RNGs (Random Number Generators). However, if you play at casinos that are regulated by third party testing agencies the software is regularly checked and RNG reports are produced for you to read.
Promotional scams
Promotional scams are unfortunately very easy to fall victim to. Grand Duke online casino is one operator that tricked players via their terms and conditions on their bonuses.
It was only one month after the Grand Duke opened in May 2011 that players began reporting the casino was rogue, scamming players with promotions. However, the biggest scam occurred in October 2011 when a player made a deposit bonus into a balance of $3000 by playing on the slots. He went to cash his money out, but the Grand Duke confiscated his funds and suspended his account, stating he exploited the terms and conditions.
The Grand Duke told the player he needed to complete the wagering requirements on multiple casino games, whereas the player had only completed them on one.
The terms were found to read that not only did the winnings need to be on multiple games, they also can't exceed winnings of 50% of the total withdrawal amount on a single game.
These terms are outrageous as not only do players need to complete the wagering requirements on more than one game, but they also have to ensure they win a certain amount on each and keep track of the winnings.
Unfortunately creating outrageous terms and conditions to trick players is quite common for rogue online casinos, so always read the fine print no matter what.
Stealing winnings from players
Rogue online casinos operate with the main aim to steal from their players and BetPort online casino is one web casino caught doing so. They regularly confiscated players winnings, giving no real explanation of why they would to the players.
One player had won almost €9000 at BetPort only to have these winnings stolen with the explanation that other players in his area made a deposit within a few hours of his deposit, so they suspected multiple accounts. There was no factual evidence of this, though they still confiscated his funds.
Since rogue Internet casinos aren't regulated there is no way to fight it, but playing at regulated casinos means you will be protected as they offer services that see an authoritative body stepping in when players have an issue with the online casino.
Other rogue signs to keep an eye out for
Some online casinos can appear to be trustworthy but in actual fact they are rogue. Keep an eye out for the following signs of scam casinos.
Digital encryption technology: as indicated by the padlock in the URL toolbar. If there is no padlock then the site is leaving your personal and financial information open to hackers
Google search: returns negative reviews about the online casino
Customer support: doesn't respond to any of your emails, messages or phone calls
Avoid any online casino with these indicators.
Safe online casinos
To avoid scams, playing at trustworthy online casinos regulated by third party organisations is recommended. While it is ironic that they're generally the honest operators that have the regulation, you can play worry-free due to these governing bodies protecting your interests.