When it comes to making a real money deposit at an online casino, pre-paid services are the best option for players who are hesitant about sending their personal financial details over the Internet. These convenient pre-paid services also provide a great alternative for those who don't want gambling related transactions appearing on their credit card bills or bank statements, or those who don't have access to a credit card.
What is a pre-paid card?
Pre-paid cards (sometimes referred to as e-Vouchers) allow you to gamble online without having to enter private information, with no paper trail linking back to you, allowing you to gamble in complete anonymity. Because of this, it is a highly recommended regulated deposit option for online gamblers wanting extra peace-of-mind.
Pre-paid cards can be purchased in real life retail outlets in exchange for cash, so payments aren't linked back to your bank account in any way and there's typically no need to fill out any application forms. You simply hand over cash in exchange for the card or voucher, the details of which can then be entered online to transfer funds automatically to your casino account.
There are several e-Voucher services available, but the most popular ones offered by reputable casinos are Paysafecard, Ukash and pre-paid Visa and MasterCard's.
Paysafecard prepaid services
Paysafecard is the leading pre-paid service for online gamblers, recently acquiring rival brand UKash in order to form a monopoly over the e-Voucher market. Paysafecard is the most popular pre-paid service in Europe and is quickly becoming more and more popular in other countries like Australia, New Zealand, Canada, Argentina, Peru and the USA.

Paysafecard vouchers are purchased in retail outlets, available at over 50,000 newsagencies, gas stations, tobacconists and supermarkets worldwide (you can use the Paysafecard website or download the app to locate the retail outlet closest to you). Vouchers can be purchased for $10, $20, $50 and $100 only, although multiple vouchers can be purchased at once to form larger transfers.
When buying a Paysafecard, cash is exchanged for an e-Voucher with a unique 16 digit pin code. All you need to do is login to one of our recommended casinos, head to the banking page, choose Paysafecard as your deposit method and enter the pin number and amount you wish to transfer. Funds will hit your casino account instantly so you can start playing for real money without any concern that your financial details will be exposed.
Prepaid MasterCard
MasterCard offers a couple of great pre-paid options for those who don't want to apply to a credit card, don't have a bank account or are restricted from applying for a line of credit for whatever reason. Pre-paid MasterCard's and gift cards can be purchased online, from banks or retail outlets like supermarkets and are loaded with your desired amount of money which can then be used to spend at any venue that MasterCard is accepted.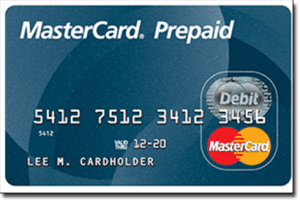 Just like using a MasterCard credit card, you'll be given a card number, expiry date and CCV, but as the card is pre-paid it works just like a debit card so you can spend your own money rather than access a line of credit. Some pre-paid MasterCard's (like the Everyday Money card) do require that you give your name and address simply to verify your identity, whereas MasterCard gift pre-paid cards don't require any identification to be shown upon purchase.
MasterCard gift cards work just like any other gift voucher, the benefit being that instead of being restricted to using them at any one store, you can spend the money anywhere MasterCard is accepted, including online casinos. If purchasing a MasterCard gift card, be mindful that just like e-Vouchers these cards can only be loaded with money once. As an advantage over cash or Paysafecards, MasterCard gift cards can be stopped and the balance transferred to another card if your gift card is lost or stolen.
Prepaid Visa
Prepaid Visa cards work in a very similar way to MasterCard, providing a convenient and safe alternative to cash and credit cards.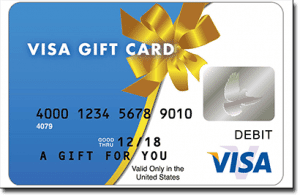 Pre-paid Visas can be purchased as gift cards, re-loadable cards that can be topped up multiple times or single load cards that can be disposed of once the funds have been spent.
If you're buying a gift card or single load Visa pre-paid card in a retail outlet, you won't need to undergo any credit checks or complete an application form. Simply hand over cash in exchange for the card and you're good to go.
Casinos that accept deposits via pre-paid cards
Prepaid cards like Paysafecard, MasterCard and Visa have become increasingly popular choices for online gamblers, so you'll find these payment methods available at a majority of our recommended casinos including Royal Vegas Casino, G'day Casino, Thrills, 32 Red and Guts Casino.
Along with the security provided by using a pre-paid card, all of these casinos are protected by a minimum of 128 Bit digital SSL (Secure Socket Layer) encryption to ensure your privacy at all times.