Online casinos tend offer much better value for money than land-based Australian casinos. However, there are a few titles at every gambling site – even the best ones – which are downright rip-offs. We'll show you which games to avoid.
American roulette
When gambling on land, you may struggle these days to find a low-limit Australian roulette table which doesn't use an American layout.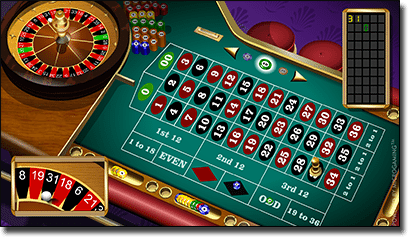 There is no such issue when you play roulette online, however, as all leading Microgaming sites and Flash casinos offer ample selections of French and European roulette games.
Now, a casual observer might say there is hardly any difference between European and US roulette games. That's partly true, because the only notable discrepancy is that American-style tables feature an extra number (double zero).
However, the addition of that single pocket nearly doubles the house edge, shifting it from 2.70 per cent up to 5.26 per cent.
Why? Because the odds on hitting a single number become longer, moving from 1 in 37 out to 1 in 38. It also gives the house twice the chance to beat all outside bets, as neither the zero nor the double zero are covered in wagers such as red or black, odd or even, etc.
Bingo
Internet casinos offer a few different digital bingo games which are powered by random numbered generators (RNGs) and played one-on-one against the house.
Some of these only bear a passing resemblance to traditional 75-ball and 90-ball bingo, however, and the odds of success stack up poorly compared to other real money casino games.
For example: Microgaming Ballistic Bingo has a house edge of 5.28 per cent, while Net Entertainment Bingo favours the operator by as much as 16 per cent.
If you like US bingo and Australian housie games, we recommend playing at specialist online bingo sites instead.
Crown and Anchor
There is a fair chance you have never heard of Crown and Anchor, unless it happens to be the name of your local watering hole.
In brief, this is a quirky, simplified version of sic bo – a popular Chinese dice game – which can be found at all the top-rated Microgaming casinos online.
The game features three six-sided dice, and the player can bet on any of the six symbols – Crown, Anchor, Diamond, Spade, Club, or Heart – to appear at least once. One match pays even money (1 to 1), two matches pays 2 to 1 and three matches pays 3 to 1.
The problem is, the equivalent bet in online sic bo pays 12 to 1 for three matches. So while the original version produces a house edge of 3.70 per cent, the Crown and Anchor bet takes that figure up to 7.81 per cent – more than double the disadvantage.
If you like that type of wager, you are far better off playing a place bet on Six or Eight at the craps table. It's much the same wager, but a 7 to 6 payout and a house edge of just 0.46 per cent makes it far better value.
Hi-Lo
Hi-lo (or high-low) is one of those silly instant-win casino games often found in the 'Other' section at an online gaming website.
The aim of the game is simple: to correctly predict whether the next hand, spin, or otherwise randomly generated number will be higher in value than the previous one, or lower in value.
Sometimes the casino edge in online hi-lo is relatively tame, coming in at either side of 3 per cent – around about the average for a table game.
In many cases, however, online casino developers attempt to spice up the game by offering multiple betting options. While this does make things more interesting, it can also significantly diminish the player's expected return.
One such example is NetEnt's Triple Chance Hi-Lo game. Players are given the option to bet high or low on up to three reels per spin, which bumps the house edge up to as much as 11 per cent.
Another one to avoid is Betsoft's Predictor game. By adding colours into the mix (i.e. you can bet on whether the next number will be blue, red, or green), this strange version pushes the casino advantage as high as 17 per cent.
Keno
This ancient Chinese lottery game has always ranked among the worst bets in the casino, and it's no different at real money gambling sites.
One issue with online keno games is that the player's expected return fluctuates unevenly depending on how many numbers are selected. Some titles allow 10 picks, while others go up to 15, but no two games are alike in terms of payout odds and house edge.
Microgaming Keno offers the best example of this extremely high variance. When you bet on 15 numbers, the house edge is 5.61 per cent; but when you pick only one number, the casino advantage rises to a whopping 25 per cent. The best bet available is 13 numbers, which favours the house by 5.10 per cent.
Other games offer lower variance, but that often results in a higher house edge overall. In NetEnt's standard keno game, for instance, there is only 1.9 per cent between the worst wager and the best; however, the house edge on the most player-friendly bet (six numbers) is a very hefty 7.91 per cent.
Scratch cards
For some reason, many real cash casino sites offer a broad selection of instant-win scratch cards.
In essence, these are just like your standard Tattersall's scratchies: you buy a ticket, reveal what's beneath the panels and discover whether or not you've won anything.
Online scratch cards are often filled with window dressing – silly animations, multiple-choice gameplay options and the like – but they require no skill and offer very little bang for your buck.
It's almost pointless to attempt to quantify the house edge of instant scratchie games, but most gambling experts estimate that players can expect to win back well under 95 per cent of their total bets on such titles.
With those kinds of odds, you might as well play real money pokies online instead.